Sin categoría
Publicado el 14 junio 2011 | por Un pedazo de pan
Potato Salad, alias "aliño de papas"
¡Summer = Salad!
The
Daring Kitchen
 Cooks are to prepare an "around the world" Potato Salad for its June challenge. It was the refreshing idea of Jami Sorrento, a non-blogging member of the Daring Cooks.
In our region -Andalusia, Spain-, a potato salad is commonly called "aliño de papas". It is a summer staple along with gazpacho (cold tomato soup).
An "aliño de papas" (potato salad) is usually a basic preparation consisting of boiled potatoes, cutted into regular cubes (1'x 1′), with diced tomatoes, green pepper and spring onion or scallion, seasoned with salt, vinegar and olive oil.
Less is more, or how to get more flavour out of less oil and vinegar. The better your oil and vinegar, the less amount for bigger flavour you'll use. And that is something important when you think of calories. The proportion of vinegar to olive oil is 1:3. I used a very good olive oil from Osuna shire (1881 TM produced by the largest association of producers in Seville,
Santa Teresa Olive Oil Co.
) and a red-wine aged sherry vinegar (
Barbadillo
).
This very basic preparation is enriched with any main ingredient you want to serve, going from the most inexpensive (a tuna tin, boiled eggs or some leftover of boiled fish) to the more expensive crab, prawns, cod spawn, or lobster. If you want to combine two of them, I would suggest adding boiled eggs (chopped, of course) and any other ingredient, or combining prwans and tuna, for example.
You can serve it as a starter, as a main course or as a "tapa" with a very cold beer glass. And if you have mexican friends around, please, serve it with a touch of fresh coriander leaves.
Ingredients
8 small potatoes
1 big red tomato
1/2 green pepper
1 scallion
1 tablespoon vinegar
3 tablespoon olive oil
salt (Kosher type preferred)
Main ingredient of your choice: in this case, mackerel
Preparation
Boiled the potatoes with the skin, till soft. Un-skinned and cut into 1 inch cubes into a bowl.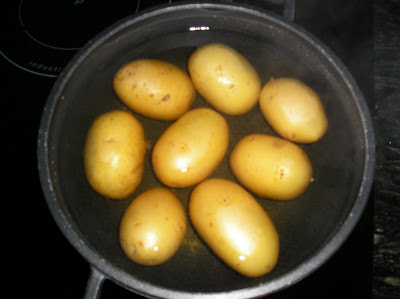 Copyright EWPG
Cut the tomato, green pepper and scallion in small pieces. Mix with the potato and seasoned with the salt, vinegar and olive oil.
Mix your main ingredient: boiled eggs, boiled leftover fish, prawns….  I have used cooked mackerel. Keep in the fridge and serve very cold.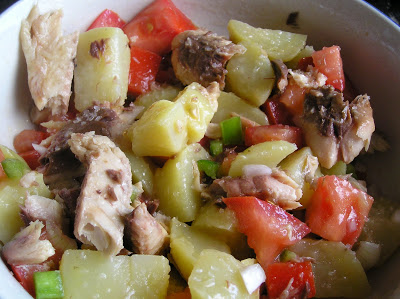 Copyright EWPG
Serve in a plate. You can decorate with coriander fresh leaves, parsil leaves or mint leaves.
Preparation time
Boiling potatoes: 30 minutes
Preparing the sald: 15 minutes
Chilling: 2 hours
Powered By WordPress Tabs Slides